Part Two B
Exuberance of Youth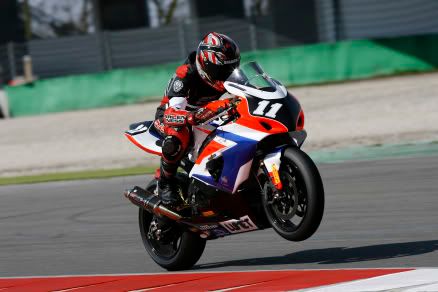 There's no doubt Didier is fast. At Assen the previous weekend he had qualified Primo's brand new and undeveloped bike twelfth on a grid of over 40 bikes. His pace was electrifying, as Robert and I witnessed from on top of the pit garage.
"He's damn near sideways going into turn one. Looks scary as hell but that's how he likes it", Robert says in near perfect English, though through a heavy accent.
After watching Didier back the Gixxer into turn 1 yet again, we walk across to the back side of the spectator area atop the garage and watch him wind his way into the carrousel and the tight left hander that sends riders down a brilliantly fast, dog-legged back stretch.
"Oh man, he's gonna get him. Can you believe how much he just closed on that guy?"
My enthusiasm is uncapped and I'm pointing wildly as Didier rounds the long right hander, closing some 50 meters on another rider. At the exit of the left hander we can see him fight the bike's wicked headshake and rocket past yet another rider as they scream down the back stretch. We walk back across to the front, though it will be some time before the riders come around and make a pass down the front stretch again.
"Man, this kid is fast. You can just see him fight the thing going in there every lap, and then on his way up the back section he's still all over it."
We agree that something needs to be done about the headshake we can see him experiencing, and I make a mental note to suggest dropping the front end a few more millimeters to get it to bite properly and turn through the corner. The headshake will need to be addressed with a stiffer rear spring.
"How was the bike?" My enthusiasm spills over as I mock interview Didier after qualifying. "You ate the YART bike alive! The only reason he got you was because he could brake later with those massive calipers they're running. Otherwise, you were all over him!"
"Man, that thing is fast. I think I could have gone faster but I need a new rear tire. The headshake is killing my arms, though. Bang, bang, bang! Every time out of a tight corner."
As it stands Didier is qualifying the bike on a worn set of tires; we don't quite have the budget to throw on a new rear and Hans is already happy enough just to be qualified.
Not your typical motorcycle racer, Didier is much quieter and more reserved. While the rest of us are milling about, grinning from ear to ear, he has disappeared to get time alone. He isn't antisocial, nor is he egotistical. He's just private and fast; really damn fast.
Didier Heyndrickx is the team's young gun, a rider Hans has been grooming and assisting up through the ranks. Their relationship started a few years prior when Didier's father contacted Hans on the advice of a friend. They needed to know what type of bike Didier should be riding if he wanted to continue advancing his young career.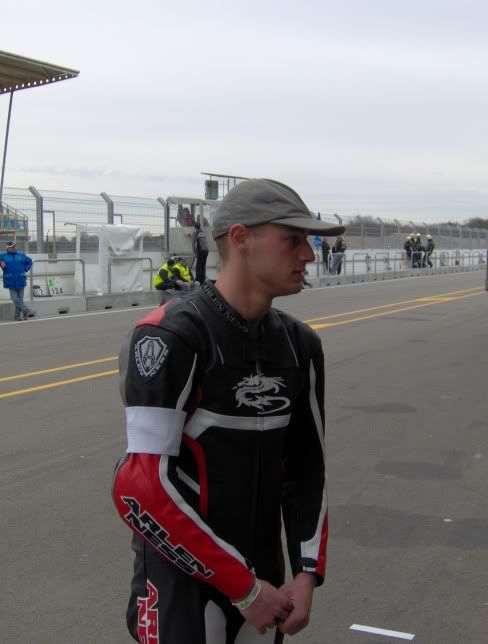 "I took Didier under my wing and helped him get to the races. We were both racing 125's for a little while before I moved into 250's and then let him ride my bike. He also tried a 600 but he had some crashes, some problems, and now we try him on the 1000", Hans chuckles and looks at me with his characteristically huge smile, "I hope it works!"
Didier speaks with enthusiasm and his passion is obvious, "I want to race in America. There is so much more we could do there, and you can actually win money if you are good. Here, the prize money is maybe a thousand Euro if you are lucky."
I've already told him and his best friend Michael about the structure of contingency prize money, awarded to expert level riders by sponsors and manufacturers for race wins. The fast riders typically walk away from a successful race weekend with anywhere from two to six thousand dollars in their pocket. On top of that, a rider can earn free tires, oil and other consumables based on their finishing position. It is a system that does not exist in Europe, despite the overwhelming strength of the sport as compared to America.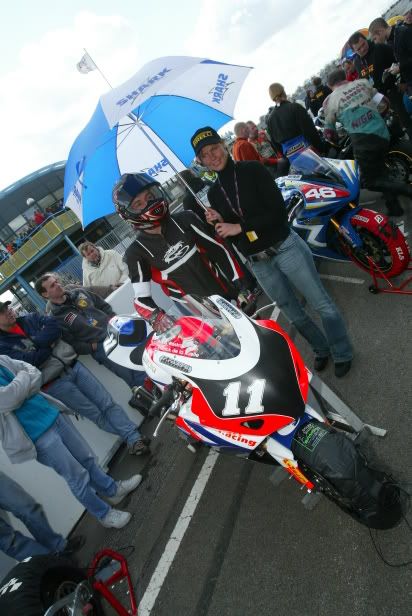 Monday afternoon we're standing on the grid for the Assen 500K. Didier sits atop the Suzuki and has numerous pictures taken, though we all chide him and remind Didier that it is due more to the presence of his best friend's lovely girlfriend than Didier's impressive position on the grid.
"Hey Greg, how are you feeling right now?"
"Good. I'm feeling real good. What about you, how do you feel?"
"You know," Didier's response includes an effective, thoughtful pause, "I'm feeling pretty fucked up right about now."
Everyone gets a good laugh from his comment but it is obvious the pressure is on right now. Not only is Didier starting his very first World Championship race, he is doing so in the World Endurance Championship, a series which mandates standing starts with the bikes on one side of the track, the riders on the other.
"No burnouts. We need this motor in good shape for Le Mans and do not have time to rebuild it. You win, you can do a burnout, but that's it", Hans tells Didier before his final stint with less than an hour to go in the 500 kilometer race. He's serious, but he ends his lecture, like all of them, with a big smile.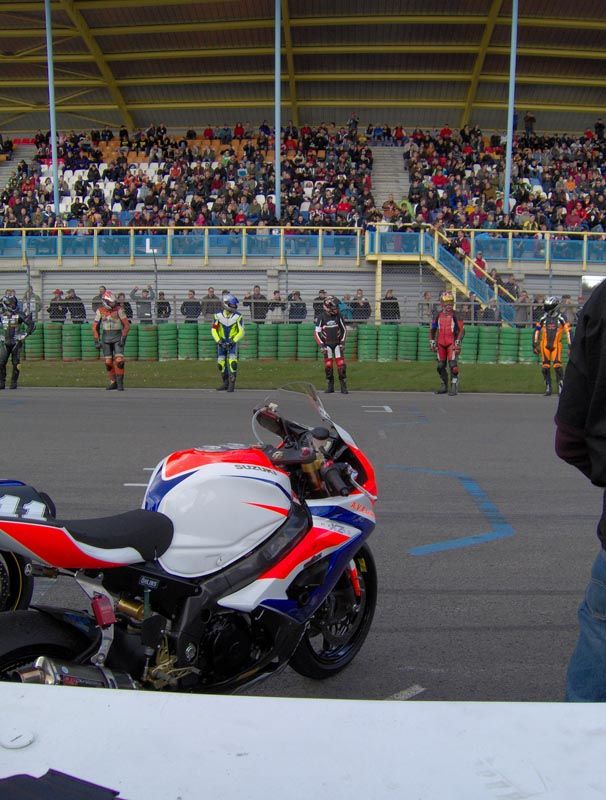 With the motorcycles arranged side by side down the front straight, we wish him luck and are ushered back over pit wall, with only Mark staying positioned to hold the bike upright. At the drop of the green flag 42 riders will sprint across the width of the front stretch, jump onto their waiting bikes, hit the starter and scream off, relatively careful not to run over each other.
The race goes off without a hitch and Didier rides the first and last stints of the race. He fights hard, making up several lost positions with only a handful of laps to go and earns the team a brilliant 12th place finish in the opening round of the championship. Back in the pits we had spent most of his last stint making our way back and forth between the pit wall and the scoring monitor sitting in the garage. Seeing him take positions and fight hard, very hard, right up to the last lap was one of the most inspiring things I have ever seen. He never faltered, never gave up and in the span of a single stint turned a brand new rear tire into a carcass so decimated that even rubber vultures, if such a creature were to exist, wouldn't touch it. The entire team dog piled onto the catch fence on the front straightaway for the finish of the race. With every team in the paddock climbing up and leaning out over the top of the fence it is a scene not unlike that of a MotoGP race, and every rider is welcomed home after 500 hard fought kilometers. We welcome Didier home, across the line and past our pit box, with a massive cheer of pumping fists and rapt applause as we struggle to stay put on the shaking fence.
I run up pit lane with Hans, Mark and Paul to meet Didier and get a rear stand under the bike so he doesn't have to stand around holding it up. By the time I arrive Hans has the bike on the stand but Didier is nowhere to be seen.
"That's Didier. As soon as the race is over he disappears." Hans does not seem very concerned about Didier's behavior or the massive, obvious flat spot on the race slick, clear evidence that Didier has done more than one smoky burnout on his cool down lap.
Continue >>
Labels: Assen, Le Mans, Primo Racing, WEC