Part Five
When I met Hans at the airport he was holding a piece of scrap cardboard emblazed with
Primo
in the hopes that I would see him first. I didn't, but we found each other rather quickly and, at 30, he was much closer to my own age than I anticipated.
"Gregk! It is great to meet you and nice to have you here, but come. We have much to do still today and I want to be leaving town in just a few hours."
As we cruise back from Brussels to Haasdonk we make a few stops for parts, then to his family's meat packing business for fresh sandwich meat, cheese and a delicious concoction called Pita Picant. We arrive back at the house, unload my bags and set to work loading the team bus, my home for the next two weeks, with supplies and spares. Soon enough the beds are covered with bodywork, the rear storage area contains assorted race gear, a full kitchen and the fruits of our most important pre-race errand.
"The guys won't work without cold beer waiting for them at the bus. We make one last stop before we go back to my place."
I wasn't sure what to expect, but driving into a warehouse full of portable, refrigerated taps was not on my list. Even more surprising, Hans is sponsored by the company providing the tap as well as the bar that provides Primo Racing with a keg of a tasty Belgian brew, called Jupiler, for every race. I would also learn, later, that beer is an essential ingredient to what makes Hans' team so successful. It isn't the beer, but the camaraderie that comes with having a family atmosphere in your team, an extroverted personality and your very own keg of cold, tap poured Pilsner in the paddock. It also means that the FIM is keeping their eye on you, but the friends made late in the evening on a race weekend more than make up for the sneers from officials.
It is Saturday night at Assen. With the track closed on Sunday and the race scheduled for Monday we sit at the bus as a team and enjoy an evening of delicious home cooked meals, brews, jokes and dreams. Redd Foxx, a legendary owner of race teams and Ducati dealerships in Belgium and The Netherlands, sits close to Hans and I can tell they are discussing something very serious. The conversation lasts for what seems like hours and Hans comes away from it all smiles. Redd has told Hans that he is impressed with the team's performance in practice and qualifying and he wants to help. He is already working to secure a quick change system for the team, a device that will improve pit stop times by ten seconds. When you add this up over the duration of a 24 hour race, the effects are staggering. Equally staggering is Redd's generosity. The system will be his way of sponsoring the team, even though he is running a competing effort on a limited schedule in the series. The parts would not be available immediately, of course, but even in looking down the road I was impressed by his willingness to help a rival race team.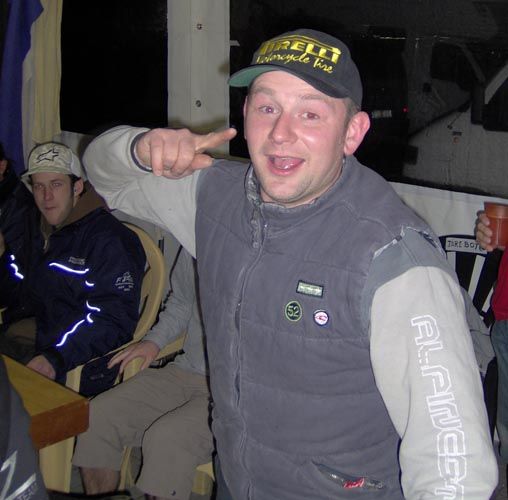 "Gregk. Gregk. I want you know that this is not beer talking. This is from my heart. I am so gladt, we are so gladt, that you are here. You have been great help to us all-ready and we think that you have all-ready become a part of our family."
While my Flemish isn't getting any better, Hans' English is even worse when he drinks, but I understand what is being said to me. Paul sits next to him nodding in agreement, and despite the struggle I am having in understanding all of what he says, the words are striking a chord deep inside me.
It was 2 o'clock in the morning at Assen when I started to figure out what makes this team, Primo Racing, so successful. It is not the hours upon hours spent preparing the bikes or tens of thousands of euros spent in kind. I have been in Europe four full days and I already feel as though I am part of something far larger than a racing team. Working, eating and sleeping shoulder to shoulder with the eighteen person crew of Primo Racing has shown me that this is a family of people committed to something far bigger than racing. It is a crew of friends committed to helping Hans succeed. They don't do it all for him of course, but the man is amazing at drawing people together. Not only that, but you can't help but feel as though you want to work your ass off for him, and for his dream of becoming a competitive team in the Championship. He's the first to admit that they do not stand a chance in the grand scheme of things, but simply scoring points is a major victory for a team of this size.
"Based on our bikes we should be racing in Superstock, not Superbike. But Superbike is so much more fun, and here we race against the big guys", Hans tells me over dinner one night.
It's true; their Superbike GSX-R1000 has a showroom stock motor and varies from its street going cousin by only the smallest of margins. And yet, despite their lack of top end power, high dollar quick change tire systems or a sizeable tire budget, they succeed.
"Didier did so well in practice, and then to qualify us sixteenth on the grid is amazing. It makes me so proud as the team owner and rider to race with him. But me and Patrick are getting old, we can't keep up with these young guys much longer! We need some new riders on the team that can ride with Didier. We owe that to him for sure."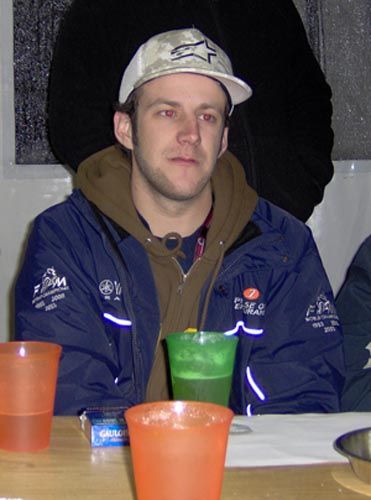 A host of other riders dropped by the party including fellow Belgian Leroy Verboven, a very fast, young rider competing for the Shell Advance Junior Team run by PhaseOne out of England. He's a pleasure to talk to, full of life and never stops smiling. A great friend of the team, Leroy is also one of their main rivals. You would never know they were competitors given the incredible reception he gets every time he comes by the tent. Again, one more reason Hans is so successful: Everyone is welcome.
Around eight o'clock that evening I decided to walk a lap of the Assen TT Circuit. The track had just undergone extensive revisions to shorten it, and I was anxious to walk a lap of a circuit that has been in my dreams for nearly a decade.
Simply stepping out onto the track surface sent my mind reeling with memories. The track had been used for years of classic MotoGP and World Superbike races, and I could not help but feel as though I were stepping onto hallowed ground. Without a doubt, the Assen TT Circuit is the Cathedral of motorcycle racing. Despite the recent revisions, it is also a much longer and lonelier lap than I had previously imagined.
"Maybe this wasn't such a hot idea."
An hour into my fabled walk I looked back over my shoulder. The light emitted from the massive timing & scoring tower and adjoining garages was barely visible, now nothing more than a faint, indistinct ember in the distance. Having not lapped the track on a scooter, I still didn't realize how much more of the track I had yet to see before making my way back to the bus. It seemed like hours before I got back and, as it turns out, it was. When I arrived back at the bus I couldn't find a soul.
"Ooh", I thought, "Maybe they've all… were the heck is everyone?"
It takes another thirty minutes for me to be found, hanging out at the bus, by Hans. This is his third trip back looking for me.
"Gregk! Where have you been? We floated the keg and everyone head over to the bar. Come, we need get you a drink!"
Continue >>