Part Two C
Experience Prevails
Hans' decision to leave Didier off the official roster at Le Mans in favor of the more experienced Jeff Vermeulen could well keep the team from competing, but he is not backing down and we are left to make what could be fruitless preparations that afternoon. Following the traditional team dinner nearly everyone heads out on foot to gather souvenirs. If we do not get to race we might as well get the t-shirts, pins and patches now.
"I wish that he would let me race. I was so much quicker than them but he thinks I'm too young", Didier's somber mood is also full of defiance. He wants to race badly, to prove that he is able to go the full distance and give the top teams a run for their money just as he did at Assen. He continues, "I know his reasons, but I don't think it is right. All of the work from the team and we're going to just pack up and leave? It just doesn't seem worth it to me."
Walking about the spectator area we find a treasure trove of excellent products but the mood is still heavy as we make our way from booth to booth looking for something new. One hour passes, then another. Soon we are walking back toward the team bus, half smiles on some faces and stoic glares on others. Then, Hans' cell phone rings; it is the team's co-owner and rider, Patrick.
"WE RIDE!"
The tunnel, once quiet save for the sound of a passing car, erupts in cheer. Our pace quickens and I quickly find Fred in the small crowd.
"We have our work cut out for us don't we?"
"Yes", I can already tell that Fred is thinking about all the work that needs to be done, "but it is worth it, is it not?"
Mark jumps in, "we'll make a list and get started as soon as we get back."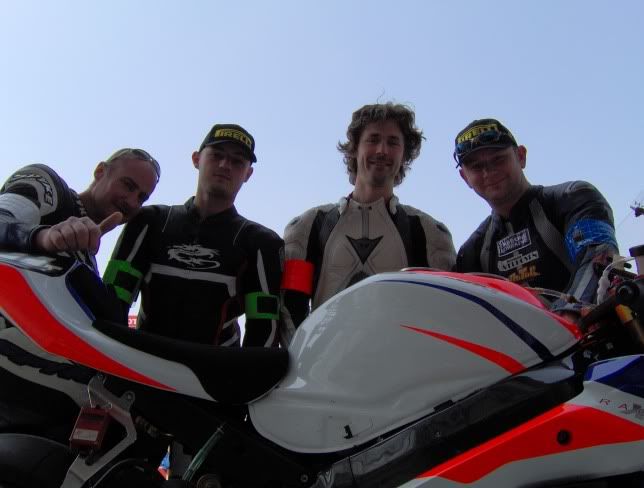 The team has been selected by the jury to participate in the race. We are given the 55th of 56 starting spots. Didier's time wasn't submitted, but the team has qualified anyway, if only by the skin of our teeth.
Continue >>