How do you Win a Bike Fight?
In December of 2006 I walked out of the local CCA (rough equivalent to Goodwill) dragging my new prized possession: a mid-80s Nishiki Sport that had been sitting outside someone's garage for what must have been several years. The bike was complete with several baskets, all of which were full of leaves, trash and some unidentifiable –and thankfully deceased- insects and spiders. The rims were bent, the tires were flat and the drive train so rusted it refused to shift or even spin. It was, for my purposes, perfect.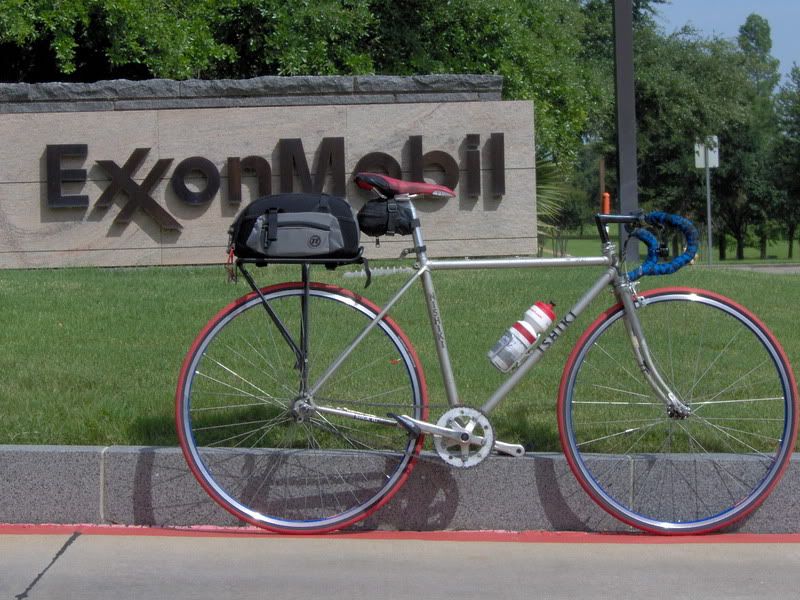 I took the heap home and set to work stripping it, completing the easy part, disassembly, in a single evening. Armed with a tube of Pedro's and a garage full of tools, what followed were several days of research and parts foraging that lead to converting the 20+ pound 4130 Tange frame into a hefty fixed gear bicycle. I started riding it, rather tentatively, at White Rock Lake. It took a few laps to stop attempting to coast and a couple of days to stop worrying myself with imminent death before I equipped it with Look pedals and became a regular fixture (bad pun intended) at the lake. I met numerous people riding that ugly little heap and became confident enough to start commuting to work on it in February of 2007.
Despite the heavy rains and curious way that my route to work became somewhat water logged, I continued to commute 18 miles each way on the Nishiki. I even learned to accept that it was not possible to keep the threaded headset (rusty, pitted and dented) tight for more than a day. I had a little rack on the bike and a bag just large enough to carry slacks, a dress shirt, socks and lunch. I left my dress shoes at work and had access to a shower so commuting was not only viable, it was amazingly simple. Unfortunately, the frame was a few centimeters too small and I decided it was time to replace it with another fixed gear frame, properly sized and equipped for commuting.
In May 2007 my task began with research for a frame and some components, but as I got into the project I started to think it would be neat to have a bike that I could, if I so chose, take to the Superdrome for some random riding. Betty and I visited the track that Friday night to watch the races and for me to introduce her to the Superdrome. By 10 o'clock that night the plan changed from building a new commuter to creating a race bike on a budget. I would continue to make due with the creaky Nishiki, after all it was just a beater for commuting, and build a track bike on the cheap.
The ad's headline "How do you win a bike fight?" was too tempting to pass up. And at $300 it was hard to pass up the EAI Brass Knuckle as a basis for my track bike. Along with being a rather thoughtfully designed Taiwan knock-off, the bike is available in your choice of File Cabinet Grey or Sort-of Khaki. Not wanting to be reminded of work I decided to go with Sort-of Khaki, but in all honesty I think it is closer to Bamboo as the hue hints of green. Going cheap on the frame allowed me to spend some extra cash on other important bits of rotating mass like FSA Carbon Pro cranks. I also decided to equip the Knuckle with 3T bars and a Deda stem while having it professionally fitted at Richardson Bike Mart. I had also managed to locate a set of wheels in Plano for a whopping $100, which helped keep things cheap at the expense of rotating mass, snap acceleration and high strength. I know that sounds like a rather lousy trade-off, which it undoubtedly is, but I didn't think it would matter much given my ignorance of racing. Armed with my track bike and an insurmountable amount of enthusiasm, I was unceremoniously rained out of the Development Class for two straight months.
In early January 2008, just a tick over a year since I had completed building it, I sold the Nishiki to a willing new home in Houston. I hadn't ridden it in months and was becoming a little sad that it was missing out on a lot of potential mileage. In the seven months I used it for commuting I manage to put over 3,000 miles on the steel beast. It had served me well, started my spiraling roller coaster into fixed gear racing and needed to find a new source of love under the butt of a new owner. While I was sad to see it go I was relieved to learn that the buyer would be entering it in various Alley Cat races, which I found all too fitting for a bike that had introduced me to fixed gear riding and was largely responsible for starting my passion for racing at the track.
Flashback to August 2007 and having finally completed the required morning of instruction a few days prior, I was now ready to begin practice and training at the high banked, bowl of a circuit. Clipped in and determined to make an impression, I rolled out onto the track for only my second evening of training. But that tale will have to wait until next month.
Labels: ATRA, Brass Knuckle, fixed gear, Frisco, pista, Superdrome